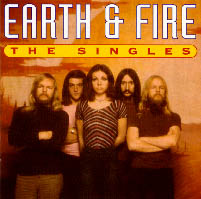 ...but they will start repeating on you!
When I was over in the Netherlands recently I popped into a music store for a couple of souvenirs. I have got a few gaps in my music collection to fill in !
Back in the early 70s there was a Dutch pirate radio station which many of you may recall that went by the name of
Radio Noordzee International
. There was one particular group that they played a lot of at that time who were called Earth and Fire - no, not the other lot with the Wind ! And there was one song of theirs that I've been dying to get hold of ever since - and it still sounds brilliant, it is entitled
MEMORIES
.....and in 1972 it reached No.1 in the
Radio Noordzee Top 50
.
As for the album that I picked up - well, it was one of those 'Ultimate Collections'. First thoughts on playing it were , apart from Memories and Maybe Tomorrow, Maybe Tonight, yuk !, My musical tastes had certainly changed a bit since the early-mid 70s. Then I played it again, all the way through from start to finish. All of a sudden I was 18 again ! Their music is pirate ship through and through. I just cannot let this album go. Jerney Kaagman, the lucious lead singer, has got this wonderful voice and the backing band are brilliant.
Earth & Fire - I love 'em ! They don't need wind to blow you away. They are mooi (pronounced: 'mo ya' , meaning: beautiful). Dank u wel.